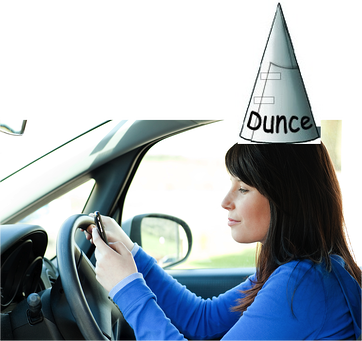 I know it may seem that all we talk about at the moment is the dangers of texting whilst driving but it is still a huge problem and the reality is that people are dying daily. We have been monitoring this and recently seen videos and articles from all over the world talking about the dangers.
Here are some examples.
Firstly – here in the UK, The Sun Newspaper ran an article entitled "I'm the moron on the phone" that highlighted various areas throughout the country and how people are still using their mobile phones. Birmingham, Bristol, London and Newcastle were all featured with images of drivers on their mobile phones whilst driving. Their article states the shocking statistic that mobile phones have been linked to 68 deaths in three years. It also states that there are many drivers who are defying the ban to use phones whilst driving. Only last week, the government increased fines to £100 but will this really be a deterrent?
It appears that this has now become a topic of conversation on Social Media. The professional networking site LinkedIn now carries forums that regularly discuss the dangers of driving and using your mobile phone. From Canada we discovered an article posted on LinkedIn about how Doctors are now being urged to ask their patients as to whether they use their mobile phone whilst driving. An interesting concept that mobile phone usage is now becoming a question during a doctors appointment along with "Do you smoke?" and "How much do you drink?". This line of questioning appears to be targeted at parents and younger people who may have attention deficit disorder. Doctors are considered to be in a unique position to influence individuals as to their mobile phone usage. http://o.canada.com/2013/07/26/text-and-drive-doctors-urged-to-ask-patients-about-cellphone-use-while-driving/?goback=%2Egde_1842771_member_261459430
We then see a recently released, very moving video directed by Werner Herzog that brings together the victims of traffic accidents caused by those texting and driving and the drivers themselves. Not a dry eye in the house and a very poignant and hard hitting film about the effects of really what amounts to just a few seconds in a persons' life that changes another's. This really should be shown to every driver convicted of using their mobile phone whilst driving. http://www.thejournal.ie/werner-herzog-text-and-drive-film-1031318-Aug2013/
And finally we end with the tragic consequences of a crash between a lorry and a public service vehicle. The accident that took place in downtown Toronto, was shocking in that 12 people were injured and one killed – a lady waiting to exit the bus. The lorry driver was on his phone when the accident took place. http://www.cbc.ca/news/canada/toronto/story/2013/08/13/toronto-ttc-bus-crash.html?ref=fh,www.mymanitoba.com
So across the world on a daily basis, accidents are continuing to happen, people are talking about it and slowly but surely the realisation that mobile phones are not for cars is being recognised.
To find out more about how to stop mobile phones from distraction drivers click here.