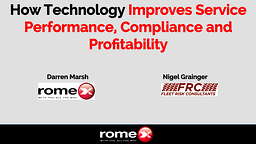 On the final day of The Facilities show, where we launched our Driver Distraction Prevention Module, we had a speaker slot in the Field Services Solutions Theatre.
Presenting with Nigel Grainger* a Fleet Risk Consultant, our Sales director, Darren Marsh gave a presentation on How Technology Improves Service Performance, Compliance and Profitability.
There was a lot of interest in our Driver Distraction Prevention Module - the presentation highlighted the risks of using a mobile phone whilst driving and the consequences for businesses.
We had some interesting questions from the audience on how the system works and whether the phone still reports mileage, location and time and attendance whilst in DDP mode. The answer to which was of course, yes. Attendees were really pleased to find out how easy it was to install the DDP module on mobile phones.
* Nigel Grainger is a Director at Fleet Risk Consultants who for ten years have been offering a full range of services to meet every aspect of business fleet risk management. Working with clients in sectors as varied as law, manufacturing, haulage and print their clients have seriously reduced their risks on the road - and taken care of the complex legal obligations around fleet management.