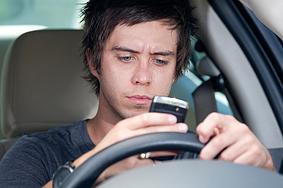 Did you know?
Texting whilst driving has overtaken drink driving, which kills 2,700 every year and is the biggest cause of teen deaths in America
There are calls for tougher laws to prevent drivers from texting while behind the wheel
UK plans to increase fines for texting while driving by 50 per cent to £90
More than a million drivers have been convicted of using a handheld mobile phone behind the wheel since 2003, when using one other than for making an emergency call was made illegal.
The National Safety Council recently announced its preliminary estimate that approximately 36,200 motor vehicle fatalities occurred in 2012. This marks a five percent upsurge from 2011 and is the first increase since 2004 to 2005. Crash injuries requiring medical attention also are estimated to have risen by five percent since 2011 to a total of 3.9 million.
"NSC is greatly concerned with the upswing in traffic fatalities on our nation's roads," said Janet Froetscher, president and CEO of the National Safety Council. "Although we have improved safety features in vehicles today, we also have new challenges, especially as it relates to teen and distracted driving, that need to be addressed on a national scale. We must work together now to reverse this latest trend to prevent needless tragedy."
http://www.nsc.org/Pages/National-Safety-Council-Estimates-First-National-Increase-in-Traffic-Deaths-Since-2005-.aspx
Prof Stephen Glaister, director of the RAC Foundation, said: "With both texting and handheld use of mobile phones at the wheel causing more impairment than being at the drink-drive limit or under the influence of cannabis, the police need to target the large number of motorists continuing to flout the law."
Wouldn't it just be easier if people couldn't use their phones?