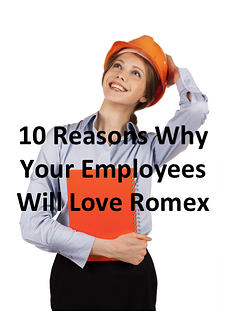 It is very important to us to get our target audiences to understand the true benefits of our Romex Mobile Workforce Management solution. To this end we have examined the marketplace, talked to your customers and understood their problems and developed our technology to deliver the solutions.
We have put together some information sheets to highlight these issues and demonstrate how our solution enhances so many areas of a business that you would have to ask yourself – why not?
I am going to briefly discuss these points…
The elimination of manual timesheets - The Romex Mobile Workforce app will save an employee on average of one day a month in admin – need we say any more?

However I must! This is reducing admin time and paperwork for those on the road and staff in the back office.
No more manual business mileage claims - every employee's nightmare – taking time to put together at the end of each month. Romex automatically records all business mileage and it can be checked and submitted in a matter of minutes rather than hours.
Provides timely and relevant job information - our job application will send jobs directly to their mobile, eliminating manual orders and job assignment sheets that have to be faxed or emailed to an employee.

This makes an employee more productive and gives them the option to increase their income.
Reduces call backs and queries to dispatch - Employees can plan their day and improve the quality of service they deliver as they are supplied with accurate job information.
On-time arrivals – the ability to keep the customer up to date with their travel information, as well as the office having full visibility of their team.
Automated proof of work completed – GPS location stamped timesheets – validates a job and reassures clients.
No more false claims or disputes – employees can demonstrate where they are at any given time great for them as well as the customer.

These can settle confusion or false claims.
Providing help in emergencies – those working alone can be located from their mobile phone, sending help if needed, monitoring in hazardous situations and provides a panic button facility.
Prevents mobile phone use whilst driving (although allows Bluetooth use if permitted with company policy) so avoiding distraction and potential risk of an accident.
Work smart – this suite of tools will reduce time spent on admin, allow staff to be more time and travel efficient and works for all staff whether they drive a company car or are part of a grey fleet.
To read more download the guide: "10 Reasons Why Your Employees Will Love Romex".